Save money at the pumps this summer with $25 off our Fuel Saver Package! This includes: clean intake valves, remove carbon build-up, improve engine idle, clean throttle body, and replace engine air filter!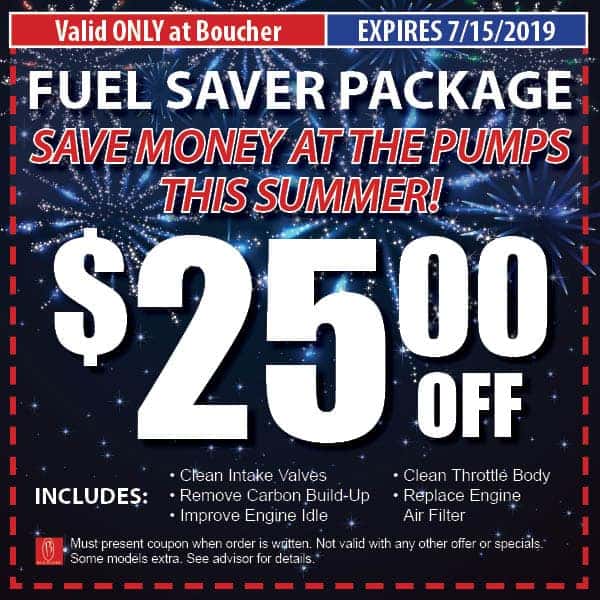 This is your LAST CHANCE for $1 over cost tires! Don't miss out on this deal! All brands and all sizes are included!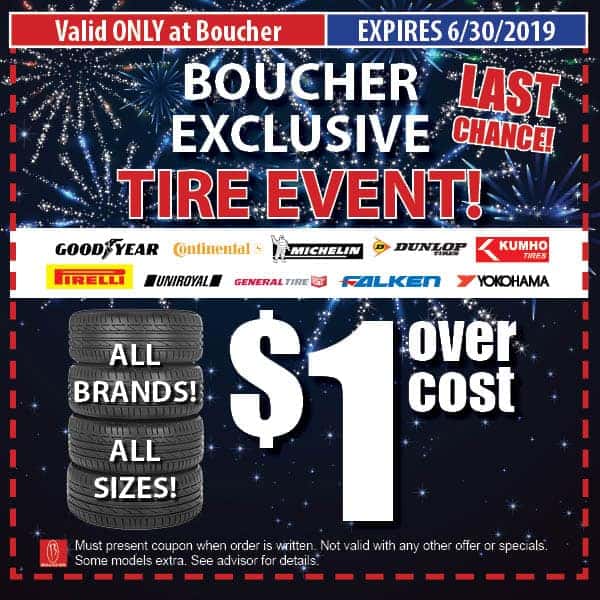 Save up to $100 on your next service with Bonus Bucks!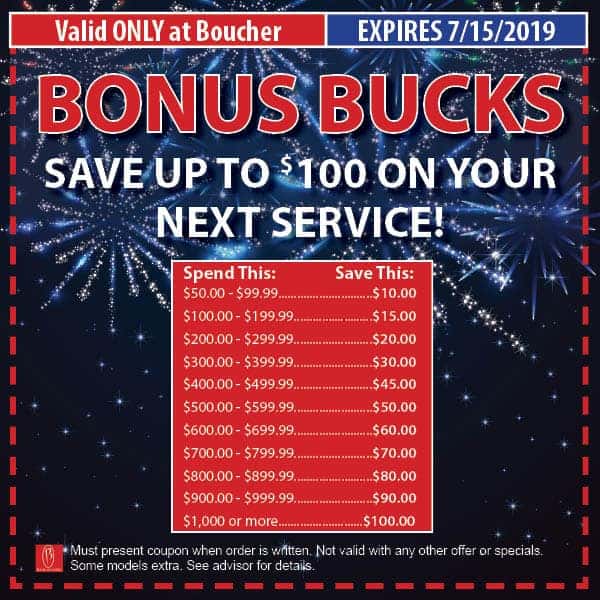 Please remember to present your coupon when the order is written. Coupons are not valid with any other offer or specials. Some models may be extra based on parts and supplies. See your service advisor for full details. Boucher $1 over cost on tires coupon expires 6/29/19.  Other coupons expire 6/15/19.
Boucher Group Inc. Service Locations.
Boucher Buick Service Department | 1907 E. Moreland Blvd. | Waukesha, WI 53186 | Service: 262.226.8403 | Schedule Service
Boucher GMC Service Department |  1907 E. Moreland Blvd. | Waukesha, WI 53186 | Service: 262.226.8403 | Schedule Service
Frank Boucher Chrysler Dodge Jeep Ram Service Department | 4001 Milton Ave. | Janesville, WI 53546 | Service: 800.922.2014 | Schedule Service
Gordie Boucher Ford (Janesville) Service Department | 2727 US-14 | Janesville, WI 53545 | Service: 800.749.1275 | Schedule Service
Gordie Boucher Lincoln (Janesville) Service Department | 2727 US-14 | Janesville, WI 53545 | Service: 800.749.1275 | Schedule Service
Gordie Boucher Ford (Kensoha) Service Department | 8301 75th St. | Kenosha, WI 53142 | Service : 800.613.6547 | Schedule Service
Gordie Boucher Village Ford Service Department | 121 N. Main St. | Thiensville, WI 53092 | Service 800.441.9843 | Schedule Service
Gordie Boucher Ford (Menomonee Falls) Service Department |N88W14300 Main Street | Menomonee Falls, WI 53051| Service 800.491.6548| Schedule Service
Gordie Boucher Ford (West Bend) Service Department | 3021 W Washington St | West Bend, WI 53095 | Service 800.572.0897 | Schedule Service
Gordie Boucher Lincoln (West Bend) Service Department | 3021 W Washington St | West Bend, WI 53095| Service 800.572.0897 | Schedule Service
Frank Boucher Cadillac (Racine) Service Department | 8600 Washington Ave | Racine, WI 53406 | Service 800.692.3640| Schedule Service
Boucher Cadillac (Waukesha) Service Department | 2145 E Moreland Blvd | Waukesha, WI 53186 | Service 800.710.0818 | Schedule Service
Frank Boucher Chevrolet (Racine) Service Department | 8600 Washington Ave | Racine, WI 53406 | Service 800.692.3640 | Schedule Service
Boucher Chevrolet (Waukesha) Service Department | 1421 E Moreland Blvd | Waukesha, WI 53186 | Service 800.709.6836 | Schedule Service
Boucher Hyundai (Janesville) Service Department | 2009 Milton Ave | Janesville, WI 53545 | Service 800.923.3062 | Schedule Service
Boucher Hyundai (Waukesha) Service Department | 1583 E Moreland Blvd. | Waukesha, WI 53186 | Service 262.293.2239 | Schedule Service
Frank Boucher Kia (Racine) Service Department | 9601 Washington Ave. | Racine, WI 53406 | Service 262.725.4046 | Schedule Service
Gordie Boucher Lincoln (West Allis) Service Department | 3161 S 108th St. | West Allis, WI 53227 | Service 800.296.4166 | Schedule Service
Frank Boucher Mazda (Racine) Service Department | 9601 Washington Ave. | Racine, WI 53406 | Service 800.518.3120 | Schedule Service
Gordie Boucher Mazda (Janesville) Service Department | 2727 US-14 | Janesville, WI 53545 | Service 800.426.4163 | Schedule Service
Boucher Nissan (Waukesha) Service Department | 1451 E Moreland Blvd. | Waukesha, WI 53186 | Service 844.339.0067 | Schedule Service
Gordie Boucher Nissan (Greenfield) Service Department | 4141 S 108th St. | Greenfield, WI 53228 | Service 800.421.9984 | Schedule Service
Boucher Volkswagen (Franklin) Service Department | 6420 S 108th St | Franklin, WI 53132 | Service 800.923.9437    | Schedule Service 
Frank Boucher Volkswagen (Janesville) Service Department | 4001 Milton Ave. | Janesville, WI 53546 | Service 855.890.2064 | Schedule Service
Frank Boucher Volkswagen (Racine) Service Department | 9601 Washington Ave. | Racine, WI 53406 | Service 800.518.3120 | Schedule Service