Trips on a Tank! Milwaukee to Eau Claire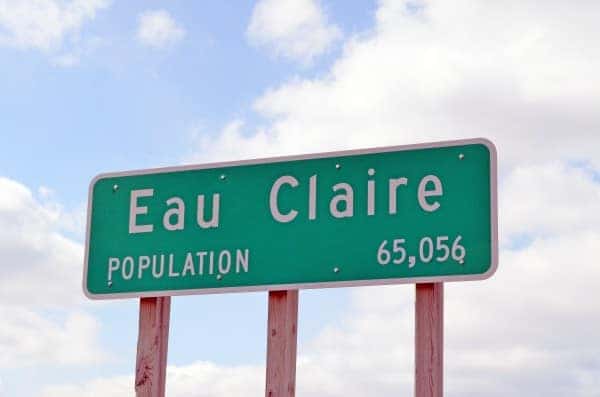 Life's too short not to have some fun, and the perfect time to do it is when the weather gets warm here in Wisconsin. You have visions of taking the perfect getaway with the family; maybe it's best to just pile the family in the car and get driving. After all, summer vacation and taking a road trip are the ingredients that make wonderful memories that everyone will cherish for years to come. A great idea for a road trip is somewhere far enough away to get new experiences but close enough that you don't spend your whole time driving. Traveling from Milwaukee to Eau Claire could be just the ticket.
Attractions to See This Summer and Year-Round
Even though Eau Claire is only about 250 miles from Milwaukee, it feels like a world away. A beautiful town of about 70,000, "The EC" enjoys the reputation of being the Portland of the North. The town offers many picturesque lakes and parks, summer music festivals, breweries, and museums that celebrate the local heritage. You'll have a chance to climb into your vehicle and just get away from the hubbub of the city, finally finding a moment to relax.
There are plenty of choice options for dining and entertainment around the EC. There are several summer music festivals and 2 rivers, the Eau Claire River and the Chippewa River, and gorgeous public parks offering trails for hiking or biking.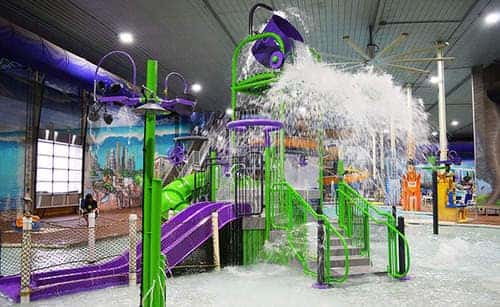 Less Than Four Hours But a World Away
The trip's distance will take you less than 4 hours in your vehicle if you drive straight there. If you're traveling with the children, you can check out Eau Claire's Action City Trampoline Park or Chaos Water Park. They're guaranteed to be a hit with the young ones. Be sure to see the acclaimed Children's Museum, so you can instill a bit of culture into the children on your vacation.
Try River Tubing or Dining
For the water lovers in the family, try tubing down the Chippewa River. Or you can sign up for FATFAR, which is the Frenchtown Annual Tube Float And Regatta that happens every June. If you choose to be a part of FATFAR, you get the unique chance to go tubing on the Chippewa River right through the city's downtown. A crowd favorite, if you're looking for a bite to eat? Try Loopy's Grill & Saloon.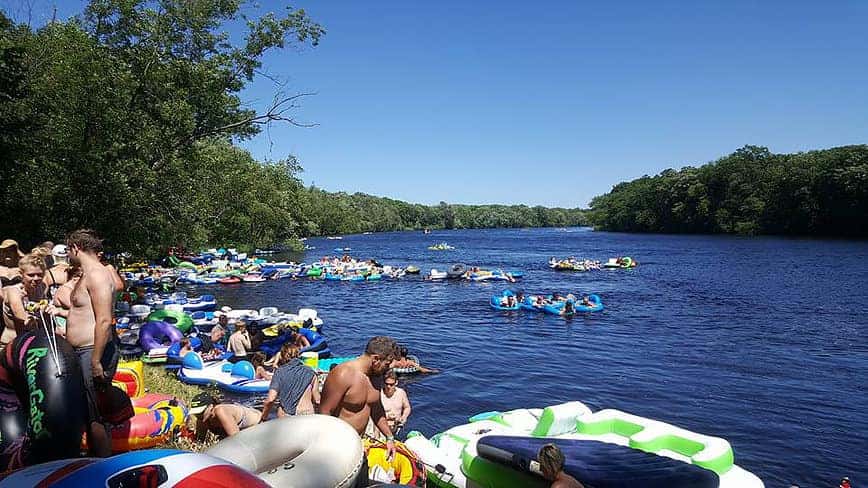 For the foodies, you should try eating at Cowboy Jack's, a popular destination that offers beautiful views of the river on their outdoor patio. Cowboy Jack's also has Salsa Night, so be sure to take advantage of the chance to dance the night away. The restaurant is also close to the River Prairie outdoor amphitheater, which is home to many free music concerts. You can eat, drink and be merry while also catching some live music.
Check Out the River Prairie Farmers Market
To make your weekend getaway more special, be sure to buy some fresh and locally grown vegetables or homemade goods at the River Prairie Farmers Market. If you're looking for a more formal sit-down place for dinner, you should check out 44 North. Their menu features delectable dishes from different regions across the United States and a wide menu of different craft beers. The restaurant has 3 different themes on different levels, so they offer everything from a casual sports bar to a more formal sit-down ambiance upstairs.
Celebrate Local Paul Bunyan Heritage
Before you visit, you'll want to know that the EC locals are immensely proud of the city's Paul Bunyan heritage. You can take a visit to the Paul Bunyan Logging Camp Museum. Learn about the legend of Paul Bunyan and his faithful blue ox, Babe, as well as get a taste for the state's premier position in history as a logging state. The city is so proud of its Paul Bunyan legend that it hosts the Blue Ox Music Festival, to be held June 13-15, 2019. It's 3 full days of music and camping, and it features roots music like Bluegrass and Americana.
If you're traveling over the summer, just be aware that the popular Eaux Claires Music Festival has been canceled for 2019. The festival's organizers are assuring everyone that the festival will be back at full throttle in 2020.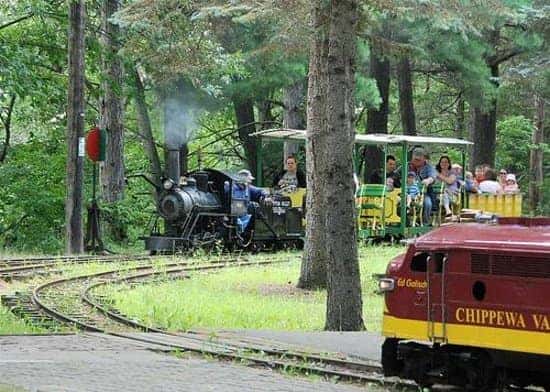 Visit the Chippewa Valley Museum
Eau Claire's Chippewa Valley Museum is a place to learn about the Ojibwe Native Americans history and the lifestyles of early settlers. If you have the time, there is an old fashioned ice cream parlor, so it's a perfect place to stop for a treat. The Chippewa Valley Museum is located right next to Carson Park, which features picnic pavilions, a horse shoe pit and a kiddie train that's an exact miniature replica of the Chippewa Valley Railroad.
Try Leinie's for Locally Brewed Beers
Most families have a beer and brewery fan in them. If that's you, then you owe it to yourself to stop at Leinenkugel's Brewery in nearby Chippewa Falls to check out the vintage brewery equipment. The brewery has been in operation since 1867, and after you've done the tour, you can sample a few of their brews at Leinie's Lodge pub.
For the art lovers, don't miss the city's beautiful Sculpture Garden that runs right through the center of the EC downtown area. And don't forget the city has an impressive University of Wisconsin campus that's not to be missed. If you have the chance, schedule a guided tour of the campus to learn all about the local highlights.
Don't Miss The Dells
Maybe you're the kind of traveler who thinks that half the fun is getting there. Instead of driving straight there, would you rather stop and kick back? A good halfway point is the Wisconsin Dells, home to our state's themed water parks. Now, if you've lived here longer than five minutes, there's a good chance you've put the kids in the car and gone for a summer vacation to the Dells. After all, it's the Waterpark Capital of the World.
With so many options, there's something for everyone at the Dells. Check out the Grecian-themed Mt. Olympus Water and Theme Park, or the Chula Vista Resort. Try Noah's Ark Waterpark, the Great Wolf Lodge or Timbavati Wildlife Park. You can basically travel the world by waterpark, without ever leaving our great state. Now, that's a Trip on a Tank that's tough to beat.
Try Visiting Madison WI for The Day or Weekend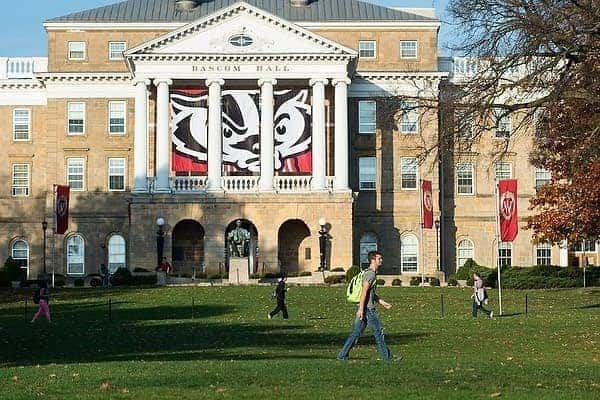 Maybe you've tried the Dells before, and you want to explore somewhere different. Then you should try visiting Madison, the city of 5 Lakes: Mendota, Monona, Waubesa, Wingra, and Kegonsa. There's history and architecture, and plenty of parks and trails to choose from. Of course, there's a UW campus for you to visit, and the historic Capitol building to tour.
Madison, WI Attractions
If you think of your trip's halfway point in Madison as a great place to stop and get a bite to eat, there are several popular eateries you need to try. Check out A Pig In A Fur Coat, which is one of Madison's most popular restaurants. It's a hip and cozy bistro that serves Mediterranean cuisine and offers an assortment of unique drinks that are hard to find elsewhere.
Another restaurant that's well-loved among the locals is Johnny's Italian Steakhouse, which is in nearby Middleton. Don't be fooled by the name of Johnny's Italian Steakhouse, because they serve a lot more than steak; they're famous for their Italian dishes and seafood as much as for their steak. For five-star dining options that are centrally located in downtown Madison, WI, check out La Kitchenette for French cuisine, Red for sushi, or Eno Vino bistro, which offers awesome views of the Capitol.
Our State Has The Best of All Worlds
With so many things to see and places to visit, we're really fortunate to call this place home. We have the chance to enjoy breathtaking views of waterfalls and dells, swim and sail on more clear lakes than you can imagine, and still enjoy the cosmopolitan life. Really, we get the best of all worlds. Life may be short, but it's long enough to have an incredible time. Get out there and enjoy the open road, and see everything there is to see.
Boucher has 17 different locations located throughout southeastern Wisconsin. We are here for all of your vehicle needs! Just give us a call or stop in!