Spring cleaning tips for your vehicle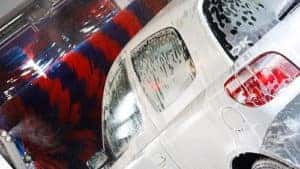 The temperatures are rising. The birds are singing. The salt covered roads have returned to their natural charcoal-tinted, cracked selves. In other words, spring has sprung, and you're probably busier than a bee spring cleaning every room inside your house and tending to your neglected, winter-beaten landscape and patio. In your dedication to your cleaning chores, don't forget to add "spring clean the car" to your list. Just as your home has weathered the winter months, so has your car, and it, too, needs a lot of attention, inside and out.
Exterior
Road salt, grime and dirt can eat away at your vehicle's pristine paint job as well as corrode the undercarriage. Flying debris — like rocks — that hit your car while driving can cause tiny nicks in the exterior, which can grow and cause rust to form. According to AutoTrader.com writer Doug DeMuro, washing your car and ridding it of winter's footprint is essential.
A thorough washing does more than remove these contaminants to reveal a pretty finish; it protects your car from ongoing, costly and unsightly damage. Bust out the bucket, soap and water for a DIY wash, drive to your local automated car wash or patronize a car wash fundraiser; the method doesn't really matter as long as your car comes out squeaky clean.
"Once your car is dry, apply wax. A synthetic polymer-based wax will offer you longer-lasting protection," advises Matthew C. Keegan, writer for NAPAonline.com.
While you are giving your car a spit shine, be sure use some elbow grease on the tires.
"Because standard car wash cleaner will not get your tires sufficiently clean, use a dedicated tire and wheel cleaner," advises Keegan. "Liberally apply the tire cleaner to the outer surface, then use a tire brush to vigorously scrub back and forth."
Now is a good time to review the health of your car's tires and wiper blades, too. Is the tread wearing unevenly? Are your tires inflated to the manufacturer-recommended psi?
DeMuro advises checking the blades for cracks and wear. Since wiper blades have a productive lifespan of approximately six months, Keegan recommends replacing your winter-weathered blades with new ones to take on the demands of spring and summer and again in the fall as part of your cold-weather car care prep.
Interior
You and your passengers probably tracked a lot of dirt and salt over the past few months onto your floor mats and the seats. Keegan says it's time to fire up the vacuum to rid your interior of crumbs, dust, dirt and salt. He also recommends you apply a "foaming fabric and upholstery cleaner" to your cloth seats and to refer to your vehicle's manual for instructions on how to clean and revitalize wood and leather materials.
Under the hood
Your car's engine worked overtime getting you through winter and as a result is suffering from depleted resources. DeMuro recommends checking that your coolant is at its proper level as well as doing a review of your engine's belts and hoses to make sure nothing is cracked, loose or broken. If you're unsure what to look for, DeMuro advises taking it in for a service check, and while you're at the shop, "ask for a quick suspension and alignment check."
With these tips, your car will be ready to take on warmer temperatures and the demands of spring.