Prepare your car for autumn with these maintenance tips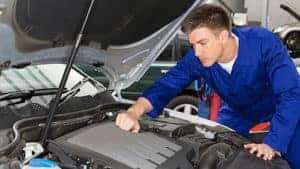 Fall brings cooler temperatures and shorter days, providing a seasonal reminder for much-needed car care. When the leaves begin to change, take some time to repair the damage your car has incurred from a long, hot summer and prepare it for autumn changes and winter stresses.
Tire check
Keeping an eye on the wear and tear of your tires throughout the year is a must-do for drivers, and fall is no exception. Not only should you check that the tread of your tires is sufficient for safe driving, you should also consider if it's time to invest in a new set of wheels, perhaps even weather-specific ones.
"If you notice that your tires have less than 1/8-inch of tread left, then it's time to go shopping. (The distance from a quarter's rim to George Washington's hairline is about 1/8 inch.)," advises Consumer Reports.
It's also essential that your tires maintain proper air pressure with fluctuating temperatures. According to CarCare.org, "Air pressure in a tire decreases one-two pounds for every 10 degrees of temperature change."
A light in the dark
Shorter days mean more hours driving in the dark, so make sure your car's lights are at their brightest.
"Walk around the outside of the car and check the operation of all lights: headlights, taillights, parking lights, brake lights and emergency flashers," writes TheCarConnection.com writer Suzanne Kane." Make sure all lights are clean."
Clean slate
With all the fun that summer brings, it also brings a big mess that seems to glue itself to your car. Before you add leaves, rain and muck to the mixture of dead bugs, bird droppings and tree sap, Consumer Reports suggests giving your car a thorough cleaning. For an extra layer of protection, invest time in a car wax.
Routine upgrades
Wiper blades are essential to safe driving, but wipers are surprisingly fragile. Check that yours are working well, and if not, swap them out for new blades, advises Kane. Now is also the time to do a fluid check.
"This includes washer fluid, along with transmission, brake and power steering fluids. Make sure they are all at or above minimum safe levels and refill as necessary," reports Kane.
With the changing season, it's also time to change your oil and air filter, and to top off your cooling system, according to Kane.
Mechanical monitoring
There is never a good time to get stranded with a dead battery, so Consumer Reports recommends inspecting your vehicle's battery for clean and tight connections. You want a battery with a full charge to take you through your daily adventures.
Kane also recommends having your brakes checked and testing that your vehicle's heater and defroster are in order as well as doing a thorough inspection of what rests under the hood.
"Look for leaks, cracks or loose clamps in the cooling system and squeeze the hoses and replace any that are spongy-feeling or brittle. Inspect the underside of drive belts for fraying and replace as required. If you've noticed any engine noises, experienced sputtering or other engine problems, have a licensed mechanic thoroughly inspect the engine and make any necessary repairs," reports Kane.
By paying attention to car maintenance in the fall, you'll be readying your car for a successful run through autumn and beyond.